Updated By: LatestGKGS Desk
India & Pakistan Permanent Indus Commission Meeting Concluded In New Delhi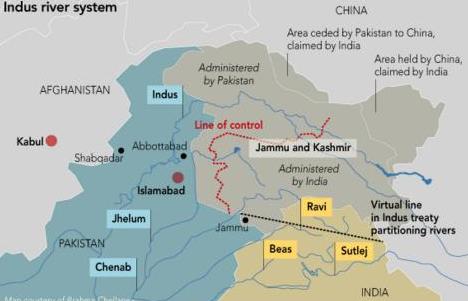 India & Pakistan Permanent Indus Commission (PIC) Meeting Concluded In New Delhi- Details, Purpose
The Permanent Indus Commission (PIC) annual meeting between India and Pakistan was concluded in New Delhi.
The 114th Permanent Indus Commission (PIC) was a two-day meeting held on 29th March & 30th March 2018.
The PIC meeting witnessed representatives from India & Pakistan, who discussed Indus Water Treaty (IWT) dispute and resolution of outstanding issues.
The PIC meeting was participated by India's Indus water commissioner PK Saxena and Union Ministry of External Affairs (MEA) officials whereas Pakistan 6 members delegation led by Syed Muhammad Mehar Ali Shah.
The PIC aimed to resolve growing tensions between India & Pakistan over host of IWT issues and alleged harassment of diplomats.
Pakistan has been continuously regretting over India's Pakal Dul (1000 MW), Ratle (850 MW) and Lower Kalnai (48 MW) dam projects located in Chenab Basin. Pakistan opposed India that these projects are violation to IWT agreement.
India, in turn has claimed that India has been maintaining these projects designs in accordance with IWT agreement.
The 113th PIC meeting was held in March 2017 in Islamabad. The PIC meeting is held alternately in India and Pakistan every year.
Indus Waters Treaty (IWT)
The Indus Waters Treaty (IWT) was signed between India and Pakistan in the year1960.
The IWT relates to the water distribution and sharing rights of six rivers of Indus river system which includes Beas, Ravi, Sutlej, Indus, Chenab and Jhelum.
The IWT specifies that waters from three western rivers including Indus, Jhelum and Chenab are reserved for Pakistan, while water from eastern rivers including Ravi, Sutlej and Beas are reserved for India.