Updated By: LatestGKGS Desk
Assessment Scope for Higher Education under new National Education Policy 2020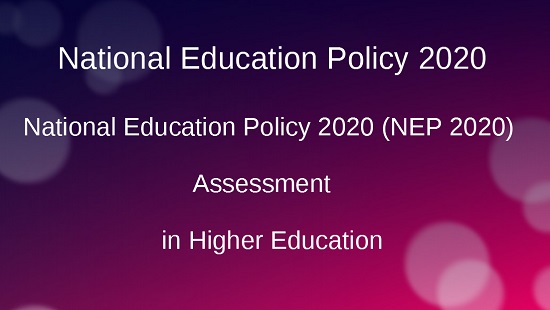 The Essense of National Education Policy 2020 assessment methods to ensure the integration of humanities with technology
National Education Policy 2020 assessments of educational approaches in undergraduate (UG) education ensuring the integration of humanities and arts with Technology, Science, Engineering, and Mathematics (STEM).
Such integration of Arts with STEM has shown positive learning outcomes. This includes increased creativity and innovation, enhanced critical thinking and higher-order thinking capacities, problem-solving abilities, teamwork, communication skills, more in-depth learning, and mastery of curricula across fields.
This new assessment method increases in social and moral awareness besides general engagement and enjoyment of learning.
National Education Policy 2020 promoting improvements in Research and enhancement through a holistic and multidisciplinary education approach.
This holistic and multidisciplinary education would aim to develop all capacities of human beings-intellectual, aesthetic, social, physical, emotional, and moral in an integrated manner.
Under National Education Policy 2020 such an education will help develop well-rounded individuals that possess critical 21st-century capacities in fields across the arts, humanities, languages, sciences, social sciences, and professional, technical, and vocational fields; an ethic of social engagement; soft skills, such as communication, discussion, and debate; and rigorous specialization in a chosen field or fields.
Such a holistic education and assessment methods shall be, in the long term, the approach of all undergraduate programs, including those in professional, technical, and vocational disciplines.