Medicinal Plant Sanjeevani 'Solo' Rhodiola: Origin, Significance, Benefits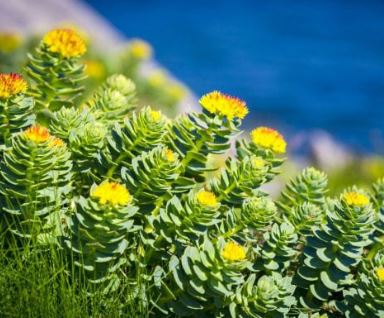 Medicinal Plant Sanjeevani 'Solo' Rhodiola: Origin, Significance, Benefits
Mythological & Historic Medicinal Plant Sanjeevani is a wonder herb that gave rebirth life to Ram's brother Lakshman in the epic Ramayana.
Sanjeevani nowadays called as 'Rhodiola', a herb found in the cold and highland climate of Indian Himalayas. It is basically found in Leh & Ladakh region and locally pronounced as 'Solo'.
Rhodiola leafy parts are used as a vegetable by locals and have an ability to regulate the immune system, help adapt to the mountain environment and, above all, protect from radioactivity.
A Leh-based Defence Institute of High Altitude Research (DIHAR) is exploring the therapeutic values of the Rhodiola herb that shows it is helpful for the troops posted in difficult high altitude areas like the 5,400-metres-high Siachen glacier.
Rhodiola, a wonder plant has immunomodulatory (enhancing immune), adaptogenic (adapting to difficult climatic condition) and radio-protecting abilities due to the presence of secondary metabolites and phytoactive compounds unique to the plant.
Rhodiola plant has been used in traditional Chinese medicine to combat high-altitude sickness, while in Mongolia physicians prescribed it for tuberculosis and cancer. Also, in Russia studied its impact on athletes and later on cosmonauts.