India External Affairs Minister Subrahmanyam Jaishankar Profile, Political Career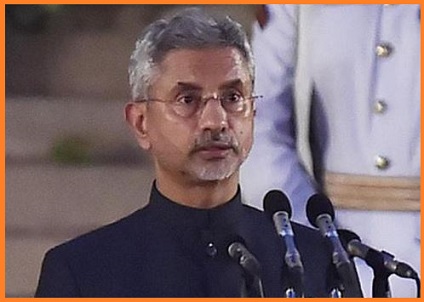 India External Affairs Minister Subrahmanyam Jaishankar Profile, Education, Political Career
Subrahmanyam Jaishankar is an Indian politician and a former diplomat who is serving as the present Minister of External Affairs in the Government of India
Subrahmanyam Jaishankar had earlier served as Foreign Secretary from January 2015 to January 2018. He joined Indian Foreign Service in 1977.
Subrahmanyam Jaishankar had also served as Indian Ambassador to the United States (2014–2015), China (2009–2013) and the Czech Republic (2001–04), and as High Commissioner to Singapore (2007–09).
Subrahmanyam Jaishankar also played a significant role in negotiating the Indo-US civilian nuclear agreement and during 'Doklam Stand Off' with China in mid-2017.
Subrahmanyam Jaishankar after retirement in he joined Tata Sons as President, Global Corporate Affairs.
Subrahmanyam Jaishankar in 2019, was conferred with Padma Shri, the fourth highest civilian award of the country.
Subrahmanyam Jaishankar on 30 May 2019, sworn in as a cabinet minister in the second Modi ministry. He was made the Minister of External Affairs on 31st May 2019.
Subrahmanyam Jaishankar succeeded Sushma Swaraj who was the External Affairs Minister in Modi's Government from (2014-2019). Sushma Swaraj did not contest the elections giving health reasons.
Subrahmanyam Jaishankar is the first former Foreign Secretary to head the Ministry of External Affairs as Union Cabinet Minister.

Subrahmanyam Jaishankar was born on 9 January 1955 (64-years-old) in New Delhi, India to Indian strategic affairs analyst, commentator, and civil servant K. Subrahmanyam and Sulochana. His brother is historian Sanjay Subrahmanyam and S. Vijay Kumar, who was former Rural Development Secretary of India.

Subrahmanyam Jaishankar did his schooling from Air Force Central School, New Delhi and graduation from St. Stephen's College at the University of Delhi.
Subrahmanyam Jaishankar has an MA in Political Science and an M.Phil and Ph.D. in International Relations from JNU, specialization in nuclear diplomacy.