Updated By: LatestGKGS Desk
DRDO Prithvi-II Missile -Details, Features, Specification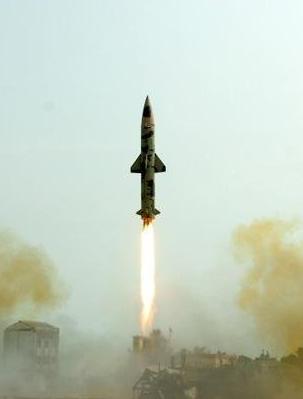 India Successfully Test Fired Prithvi-II Ballistic Missile on 7th February 2018-Details, Features, Specification
India on 6th February 2018, successfully tests fired its Prithvi-II, a nuclear-capable tactical surface-to-surface short-range ballistic missile (SRBM).
The Prithvi-II ballistic missile test was conducted as part of a user trial, by the Strategic Forces Command of the Army from a mobile launcher at the launch complex-3 of the Integrated Test Range at Chandipur near Balasore, Odisha.
As per Defence officials, Prithvi-II, test launch has ambitiously achieved all the parameters within the stipulated time period.
Prithvi-II is the first missile to be developed by the DRDO under the Integrated Guided Missile Development Programme (IGMDP) inducted into the Indian Armed forces in 2003.
Prithvi-II is an indigenously built, single-stage liquid-fuelled ballistic missile, weighs around 4.6 tonnes, 9 metres in length and 1.1 metres in diameter.
Prithvi-II is the short-range surface-to-surface ballistic missile, upholding with a strike range of 350 km.
Prithvi-II can carry payloads between 500 kg to 1,000 kg and is also capable of carrying nuclear warheads.
Prithvi-II, powered by liquid propulsion twin engines, the missile uses an advanced inertial guidance system with manipulating trajectory to hit its targets.