Defence Ministry Launched Mission Raksha Gyan Shakti To Boost IPR Culture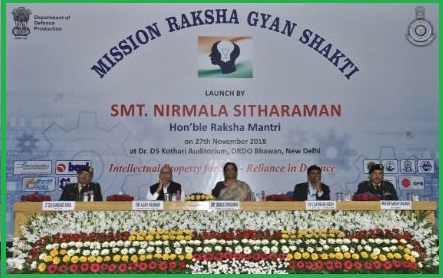 Defence Ministry Launched Mission Raksha Gyan Shakti To Boost IPR Culture IN Defence Industry: Details, Features, Aim, Highlights
Union Ministry of Defence has launched 'Mission Raksha Gyan Shakti' to boost Intellectual Property Right (IPR) culture in the indigenous defence industry.
Mission Raksha Gyan Shakti was launched by Defence Minister, Nirmala Sitharaman at an event in New Delhi.
Mission Raksha Gyan Shakti was instituted by Department of Defence Production as part of the ongoing initiatives to enhance self-reliance in defence.
Mission Raksha Gyan Shakti is aimed at providing a boost to IPR culture in the indigenous defence industry. The main objective of this programme was to inculcate IP culture in Indian defence manufacturing ecosystem.
Directorate General of Quality Assurance (DGQA) was entrusted with the responsibility of coordinating and implementing the programme.
During the event, salient inventions and innovations achieved by DRDO, Defence Public Sector Undertakings (DPSUs) and Ordnance Factories (OFs) that have resulted in the successful filing of IPR applications were showcased.
Need/Background
IPR has emerged as a key ingredient of an ecosystem which stimulates innovation and ingenuity. India has always been knowledge hub since ancient times, but due to lack of awareness on the modern legal framework for the protection of IP rights, nation's knowledge and creativity have often not been utilised to its full potential.
Spreading awareness about IPR will help in promoting the culture of innovation and creation of Intellectual Property.
Defence Ministry has established IP Facilitation Cell in April 2018 to achieve ambitious targets of training 10,000 personnel of OFB and DPSUs on IPR and facilitate the filing of at least 1,000 new IPR applications.