Updated By: LatestGKGS Desk
Indian Armed Forces Celebrate 'Parakram Parv' to mark surgical strikes success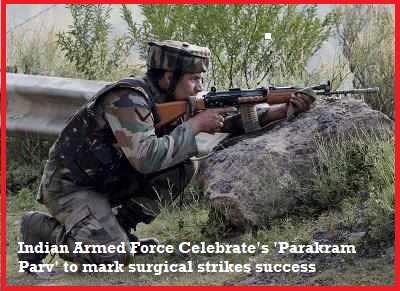 Indian Armed Forces Celebrate 'Parakram Parv' to mark surgical strikes success: Details, Celebrations, Highlights
The Indian Armed Forces will celebrate 'Parakram Parv' from 28th September 2018 to 30th September 2018, to mark the second anniversary of the surgical strikes against terror camps across the Line of Control (LoC).
The 'Parakram Parv' celebrations aim to "Showcase the Courage, Valor and Sacrifice of Indian Armed Forces".
The 'Parakram Parv' celebrations main event is planned on the India Gate lawns at Rajpath in New Delhi. Similarly, 53 locations in 51 cities across the country will have events highlighting the valor of Indian Armed Forces in general and Special Forces in particular.
Defence Minister Nirmala Sitharaman will commemorate the inauguration of the Parakram Parv and also interact with children.
The 'Parakram Parv' celebrations event will start with a bugle call and thereafter, movies and photographs depicting valor and courage of the Armed Forces will be shown.
Common Visitors will get the opportunity to see captured weapons used by terrorists that have been brought from Jammu and Kashmir. Noted singers like Kailash Kher & Mohit Chauhan are scheduled to perform at the venue apart from the Military band.
The General public will be encouraged to take selfies at all venues, including India Gate and post them on the social networking sites with #ParakramParv.
Latest Surgical Strike Updates