Updated By: LatestGKGS Desk
Ministry of Environment Launched Full Fledged Green Skill Development Programme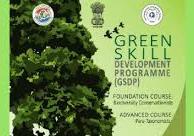 Ministry of Environment Launched Full Fledged Green Skill Development Programme And Its Mobile App (GSDP-ENVIS)
The Union Ministry of Environment launched its full-fledged Green Skill Development Programme (GSDP) on 15th May 2018 in New Delhi.
The GSDP aims to train over 5.5 lakh workers in environment and forest sectors in the country through 30 courses by 2021 for sustainable conservation and management of natural resources.
Union Environment Minister, Harsh Vardhan also launched a related mobile app (GSDP-ENVIS) on the occasion, to provide more information and applying to courses under GSDP programme.
Green Skill Development Programme (GSDP)
GSDP was launched as a pilot project in 2017 by Union Ministry of Environment Forests and Climate Change (MoEFCC) in partnership with National Skill Development Agency (NSDA) to develop green skilled workers having technical knowledge and commitment to sustainable development.
Under GSDP initiative, skilling of youth (especially 10th and 12th dropouts) will be undertaken for increasing availability of skilled workforce in environment and forest sector to provide them gainful employment or self-employment.
Under GSDP, green skills will be imparted in more than 30 programmes in diverse fields identified, which will be conducted in 84 institutions across India.
GSDP will also help in the attainment of Nationally Determined Contributions (NDCs), Sustainable Development Goals (SDGs), National Biodiversity Targets (NBTs) and Waste Management Rules 2016.
Latest Ministry Of Environment Forests And Climate Change (MOEFCC) Updates