Updated By: LatestGKGS Desk
Mother Teresa 109th birth anniversary celebrations on 26th August 2019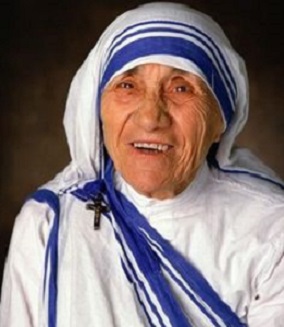 Mother Teresa 109th birth anniversary celebrations on 26th August 2019
Mother Teresa's 109th birth anniversary was celebrated across the world on 26th August 2019.
Mother Teresa was born on 26th August 1910 in Skopje, North Macedonia. Her original name was Anjeze Gonxhe Bojaxhiu and was an Albanian-Indian Roman Catholic nun and missionary.
Mother Teresa left her home at the age of 18 and moved to Ireland and then to India, where she lived for most of her life.
Mother Teresa came to India in 1929 and served her best for the welfare of the poor people as well as the homeless, orphan children and people dying from terminal illness such as HIV/AIDS, leprosy and tuberculosis.
Mother Teresa had founded Missionaries of Charity, which mainly looks after people who are dying of HIV/AIDS, leprosy and tuberculosis.
Mother Teresa devoted all of her life working for the poor and downtrodden She founded the Missionaries of Charity in 1950 to help the poorest among the poor. The charity took in an increasing number of homeless children.
Mother Teresa was fluent in five languages including English, Hindi, Bengali, Albanian and Serbian.
Mother Teresa was the recipient of more than 120 honors and awards during her lifetime including the Ramon Magsaysay Peace Prize in 1962 and Nobel Peace Prize in 1979.
Mother Teresa passed away on 5th September 1997 in Kolkatta, India.