Updated By: LatestGKGS Desk
Nagaland Geography, Location, Landmass, Terrain, Rivers, Dams, Features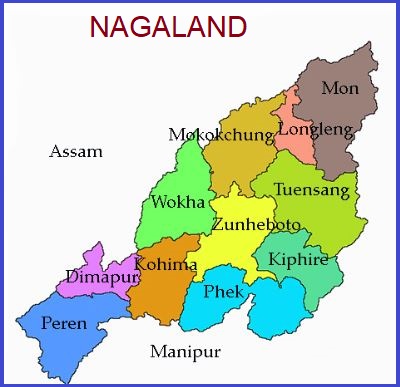 Nagaland Geography, Location, Landmass, Terrain, Rivers, Dams, Features
Nagaland is a state in northeastern India. It's capital name is Aizawl. It was commissioned to Indian Union on 1st December 1963.
Nagaland is the southernmost lying in the hills and mountains of the northeastern part of the country. It is one of the smaller states of India.
Nagaland is bordered by the Indian states of Arunachal Pradesh to the northeast, Manipur to the south, and Assam to the west and northwest and the country of Myanmar (Burma) to the east.
Nagaland has 11 districts and covers an area of 16,579 km2 (6,401 sq mi).
Nagaland has a monsoonal (wet-dry) climate. Annual rainfall averages between 70 and 100 inches and average temperatures decrease with greater elevation
Nagaland is an ideal destination for trekking, rock climbing, and jungle camping.
Rivers
Dhansiri, Dikhu, Doyang and the Jhanji 3.
Nagaland
Capital: Kohima
Largest City: Dimapur
Districts: 11
Official Language: English
Population: 1,980,602
Literacy: 80.11 %
Major Crops: Rice, maize, small millets, pulses (legumes), oilseeds, fibers, sugarcane, potato, and tobacco
State Animal: Mithun
State Bird: Blyth's Tragopan
State Flower: Tree rhododendron
State Tree: Alder
Governor: Padmanabha Acharya

Chief Minister: Neiphiu Rio (NDPP)