Updated By: LatestGKGS Desk
Tripura Geography, Location, Landmass, Terrain, Rivers, Dams, Features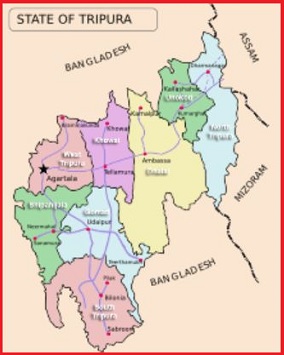 Tripura Geography, Location, Landmass, Terrain, Rivers, Dams, Features
Tripura is a state in northeastern India. Its capital name is Agartala. It was commissioned to Indian Union on 21 January 1972.
Tripura is well known as the Switzerland of India. It has 8 districts and covers an area of 10,491.69 square kilometers (4,050.86 sq mi).
Tripura is bordered to the north, west, and south by Bangladesh, to the east by the Indian state of Mizoram, and to the northeast by the state of Assam. It is among the smallest of India's states
About two-thirds of the people in Manipur are Meitei (Meetei), who occupy the Manipur valley and are largely Hindus.
Tripura climate exhibits a strong seasonal rhythm. The state is characterized by a warm and humid tropical climate with five distinct seasons, namely, spring, summer, monsoon, autumn, and winter. Spring.
Tripura registers about 80 inches (2,000 mm) of rainfall, most of which is brought by the monsoon, which generally blows from June to September. North-central Tripura usually receives the most rainfall; the southwestern region typically receives the least.
Hills
Tripura has five anticlinal ranges of hills running north to south, from Boromura in the west, through Atharamura, Longtharai, and Shakhan, to the Jampui Hills in the east.
Rivers
Gumti, Fenni, Muhuri, Haroa, Khowai, Dhalai, Manu, Deo, Longai, Juri 3.
Major Lakes
Bijoy sagar, Kamalasagar, Rudrasagar Lake
Tripura
Capital: Agartala
Largest City: Agartala
Official Languages: English Kokborok and Bengali
Population: 3,671,032
Literacy: 87.75 %
Major Crops: Rice, Cash Crops-Jute, Cotton, Tea, Sugarcane, Pineapple, Mangoes, Oranges, Jackfruit, Potatoes, etc
State Fruit: Queen Pineapple (Ananas comosus)
State Animal: Phayre's Langur (Trachypithecus phayrei)
State Bird: Green Imperial Pigeon (Ducula aenea)
State Flower: Nageswar (Mesua ferrea)
State Tree: Agar (Aquilaria malaccensis)
Governor: Kaptan Singh Solanki
Chief Minister: Biplab Kumar Deb (BJP)