Updated By: LatestGKGS Desk
Manipur Geography, Location, Landmass, Terrain, Rivers, Dams, Features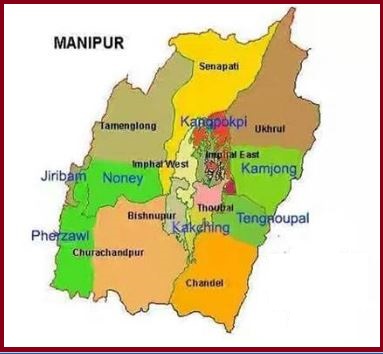 Manipur Geography, Location, Landmass, Terrain, Rivers, Dams, Features
Manipur is a state in northeastern India. It's capital name is Imphal. It was commissioned to Indian Union on 21 January 1972.
Manipur is well known as the Switzerland of India. It has 16 districts and covers an area of 22,327 square kilometers (8,621 sq mi).
Manipur is bordered by the Indian states of Nagaland to the north, Assam to the west, and Mizoram to the southwest and by Myanmar (Burma) to the south and east.
About two-thirds of the people in Manipur are Meitei (Meetei), who occupy the Manipur valley and are largely Hindus.
Manipur climate is temperate in the valley and cold in the hills. In summer the average high temperature is in the low 90s F (about 32–34 °C), while in the winter temperatures can drop into the mid-30s F (about 1–2 °C). Rainfall is abundant, with about 65 inches (1,650 mm) of precipitation occurring annually.
Hills
Manipur hill ranges include the Naga Hills to the north, the East Manipur Hills along the eastern Myanmar border, the Mizo and Chin hills.
River
1. Surma River 3.
Lake
1. Loktak Lake
Manipur
Capital: Imphal
Largest City: Imphal
Official Language: Meitei (Manipuri)
Population: 2,85,5794
Literacy: 79.85% (16th)
Major Crops: Paddy, wheat, maize, pulses. potato, ginger, gram, cauliflower, cabbage, mustard, turmeric, and other spices crop
State Animal: Sangai (Brow-antlered deer)
State Bird: Hume's pheasant or Bar-tailed pheasant
State Flower: Shirui Lily or Siroi Lily
State Tree: Toon or toona (redcedar)
Governor: Najma Heptulla
Chief Minister: N. Biren Singh (BJP)