Updated By: LatestGKGS Desk
Mizoram Geography, Location, Landmass, Terrain, Rivers, Dams, Features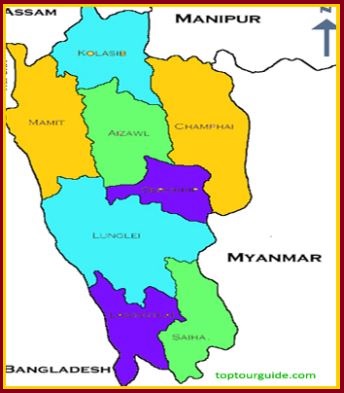 Mizoram Geography, Location, Landmass, Terrain, Rivers, Dams, Features
Mizoram is a state in northeastern India. It's capital name is Aizawl. It was commissioned to Indian Union on 20 February 1987.
Mizoram t is the southernmost landlocked state, sharing borders with three of the Seven Sister States, namely Tripura, Assam and Manipur.
Mizoram is bordered also shares a 722-kilometer border with the neighboring countries of Bangladesh and Myanmar. It has 8 districts and covers an area of 10,491.69 square kilometers (4,050.86 sq mi)
The word "Mizo" means highlander. The state of Mizoram is a storehouse of exotic flora and fauna. The hills here could be seen covered with bamboo and banana trees along with a wonderful array of pine trees
Mizoram ("Land of the Mizos") was known as the Lushai Hills District of Assam before it was renamed the Mizo Hills District in 1954. In 1972 it became a centrally administered union territory under the name of Mizoram, and in 1987 it achieved statehood.
Hills
Phawngpui Peak rising about 2157 meters high near the Myanmar border in Chhimtuipui District. It is famous for orchids and rhododendrons.
Rivers
Tlawng River, Barak River, Kaladan River, Karnaphuli River 3.
Mizoram
Capital: Aizawl
Largest City: Aizawl
Official Languages: English, Hindi, and Mizo
Population: 1,091,014
Literacy: 91.58 %
Major Crops: Rice, Maize,
State Fruit: Sapethei or Passion Fruit
State Animal: Sumatran serow
State Bird: Mrs. Hume's Pheasant
State Flower: Red Vanada
State Tree: Iron Wood
Governor: Jagdish Mukhi

Chief Minister: Zoramthanga (MNF)