Updated By: LatestGKGS Desk
Dhola Sadiya bridge on Brahmaputra & Lohit open on 26th May 2017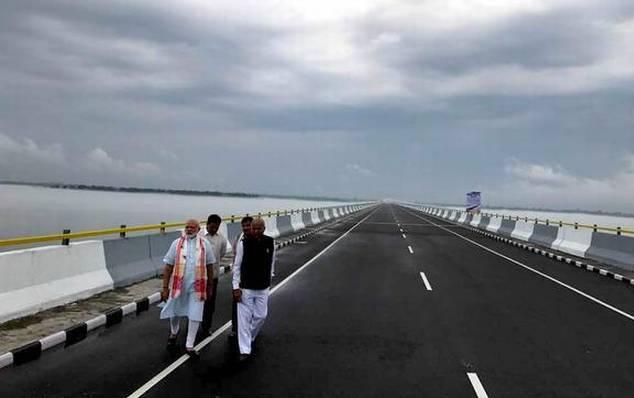 PM Narendra Modi inagurates Dhola Sadia bridge on Lohit and Brahmaputra river on 26th May 2017 Dhola Sadiya bridge (Bhupen Hazarika bridge) features, specifications
Today, on the occassion of 3 years completion of Modi government, PM Narendra Modi inagurates Dhola Sadiya bridge in Sadiya of Assam.
Dhola Sadiya bridge has it's important economical and strategic value for north east. PM Narendra Modi dedicates Dhola Sadiya bridge name to popular Assamese singer Bhupen Hazarika.
Dhola Sadiya bridge can carry upto 60 ton tank and strategic weapens to the border sharing with China, giving morale boost to forces serving at deep border locations.
Dhola Sadiya bridge features and specifications
Dhola Sadiya bridge is 9.15 kilometer in length. It is longest river bridge in India in it's category. Width of the bridge is 13 Meters making two way traffic possible on the bridge.
Dhola Sadiya bridge length : 9.15 Km
Dhola Sadiya bridge width : 13 m
Dhola Sadiya bridge location : Sadiya
Total number of spans in the bridge: 183
Rivers covered by the bridge: Lohit and Brahmputra
Inaguration date : 26th May 2017