Updated By: LatestGKGS Desk
PM Narendra Modi Inaugurated Health And Wellness Centre In Chattisgarh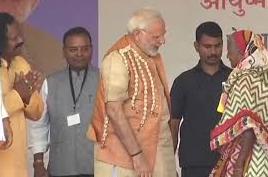 PM Narendra Modi Inaugurated Health And Wellness Centre In Chattisgarh
Prime Minister Narendra Modi inaugurated the first Health and Wellness Centre on the occasion of 'Ambedkar Jayanti' on 14th April 2018 in Bijapur, Chhattisgarh.
The first Health and Wellness Centre in Bijapur was instituted to mark the launch of Ayushman Bharat Yojana- National Health Protection Mission (AB-NHPM).
Ayushman Bharat has twin missions to create a network of health and wellness centres to deliver comprehensive primary health care close to the community, and to provide insurance coverage to 40% of India's population, which is deprived of secondary and tertiary care, including instance and hospitalisation costs.
Ayushman Bharat insurance scheme also called 'Modicare' was announced in Union Budget 2018 and was approved by Union Cabinet in March 2018 with a budgetary allocation of Rs 10,500 crore. It is world's largest government-funded healthcare programme.
Ayushman Bharat aims to target over 10 crore families belonging to poor and vulnerable population based on Socio Economic and Caste Census 2011 (SECC) database. It will cover of Rs. 5 lakh per family per year, taking care of almost all secondary care and tertiary care procedures. There will be no cap on family size and age in the scheme.
Under Ayushman Bharat scheme, the government aims to set up 1.5 lakh wellness centres by 2022 that can leverage on comprehensive primary health care for preventive, primitive and curative care.
Ayushman Bharat scheme benefits include pre and post-hospitalisation expenses. It will also cover all pre-existing conditions from the beginning of the policy. It will also pay defined transport allowance per hospitalization to the beneficiary.