Updated By: LatestGKGS Desk
GK Questions 18th October 2019 General Knowledge, Current Affairs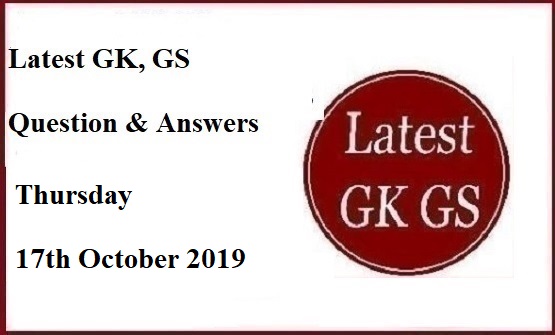 GK Questions 18th October 2019 General Knowledge, Current Affairs
1. What percentage of growth was recorded in the 2019 Livestock Census in India?
Ans: 4.63 percent
2. Which country is opening its first graduate-level, research-based AI university in the world?
Ans: UAE
3. Which of the following footballer has won this year's Golden Shoe title?
Ans: Lionel Messi
4. From how many days the Supreme Court was hearing the case of Ayodhya land dispute?
Ans: 40
5. How much fine has recently imposed on SBM Bank (India) by the Reserve Bank of India?
Ans: 3 cr
6. How many UAE players have been suspended by the ICC recently on corruption charges?
Ans: 3
7. Which scheme has been launched by the Central Government to encourage girl students to pursue STEM education?
Ans: Vigyan Jyoti Yojana
8. Which of the following actress has made a world record of getting more than 1 million followers on Instagram in 5 hours 16 minutes?
Ans: Jennifer Aniston
9. Which Chief Minister of an Indian state has recently biked 122 kilometers to promote adventure tourism in his state?
Ans: Pema Khandu
10. Which State/UT Chief Minister has announced the Odd-Even scheme to curb pollution starting from November 4 to 15?
Ans: Delhi
11. When is World Trauma Day is observed every year?
Ans: 17th October
12. When is International Poverty Eradication Day is observed every year?
Ans: 17th October