Updated By: LatestGKGS Desk
Oman Author J. Alharthi 'Celestial Bodies' Wins Man Booker International Prize 2019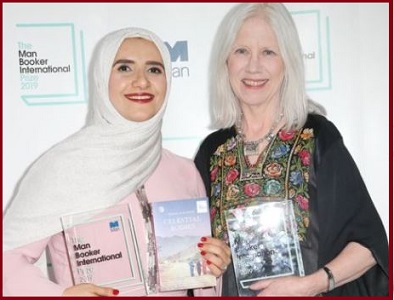 Oman Author Jokha Alharthi Novel 'Celestial Bodies' Wins Man Booker International Prize 2019: Details, Highlights
Oman emerging author Jokha Alharthi on 22nd May 2019, has won the eminent 'Man Booker International Prize 2019' for her novel "Celestial Bodies".

Jokha Alharthi with this achievement has become the first Arabic-language writer to win this prize and the first female writer from Oman to have her work translated into English.
Jokha Alharthi received the award from Historian Bettany Hughes, the chairwoman of the judging panel, at a ceremony at the Roundhouse, London.
Jokha Alharthi will share the prize money of 50,000 pounds (USD 64,000) into two halves with Marilyn Booth from the UK who translated her book into the English Language.
Earlier, Jokha Alharthi also won the 'Best Omani Novel Award' for Celestial Bodies in 2010.
About Novel Celestial Bodies
Celestial Bodies novel is the story of three sisters Mayya, Asma, and Khawla. The novel, set in the Omani village of al-Awafi, confronts Oman's history of slavery, which was abolished in the country only in 1970.

After suffering heartbreak, Mayya marries into a rich family; Asma marries for duty, and Khawla is shown waiting for a man who has immigrated to Canada.

Celestial Bodies novel was first published in 2010 as "Ladies of the Moon".
Man Booker International Prize 2019
The Man Booker International Prize, an international literary award hosted in the United Kingdom, is a counterpart to the 'Man Booker Prize' that is awarded only for English-language novels.
The Man Booker International Prize carries prize money of 50,000 pounds that is split equally between the writer and translator.

The 2018 winner of the Man Booker International Prize was the novel 'Flights' by Polish author Olga Tokarczuk.