Updated By: LatestGKGS Desk
India celebrates 115th birth anniversary of Former PM Lal Bahadur Shastri 2nd October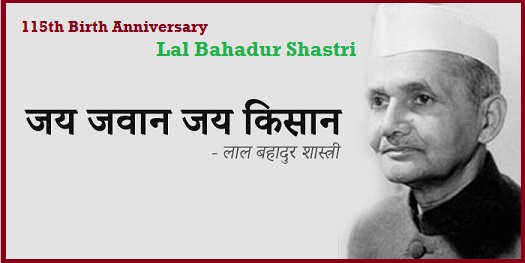 India celebrates the 110th birth anniversary of Former PM Lal Bahadur Shastri 2nd October: Details, Achievements, Political Carrer
India celebrates the 115th birth anniversary of Lal Bahadur Shastri. He was an active participant in the Indian freedom struggle since 1920.
Lal Bahadur Shastri also has the distinction of being the second Prime Minister of India (1964-1966), when he took over after the untimely demise of Jawaharlal Nehru.
Lal Bahadur Shastri was born on 2nd October 1904 in Mughalsarai, India, He passed away of a heart attack on 11th January 1966, in Tashkent, Uzbekistan, U.S.S.R.), just after signing the Tashkent Pact.
Lal Bahadur Shastri was elected to the legislature of the United Provinces in 1937 and 1946. After Indian independence, Shastri gained experience as Minister for Home Affairs and transport in Uttar Pradesh.
Lal Bahadur Shastri has also been Minister of Home Affairs (4th April 1961 - 29th August 1963 and Minister of External Affairs (9th June 1964-18th July 1964).
Lal Bahadur Shastri is most famous for his slogan, 'Jai Jawaan, Jai Kisan'.
Lal Bahadur Shastri revolutionized the agricultural sector during his tenure. He also oversaw the flourishing of the Amul Co-operative which heralded a White Revolution in the country.
Lal Bahadur Shastri also led the country successfully through the 1965 war with Pakistan.
Lal Bahadur Shastri was posthumously conferred the Bharat Ratna in 1966.