Updated By: LatestGKGS Desk
Prime Minister : Jandhan Yojana , Game changer Initiation for People Banking Success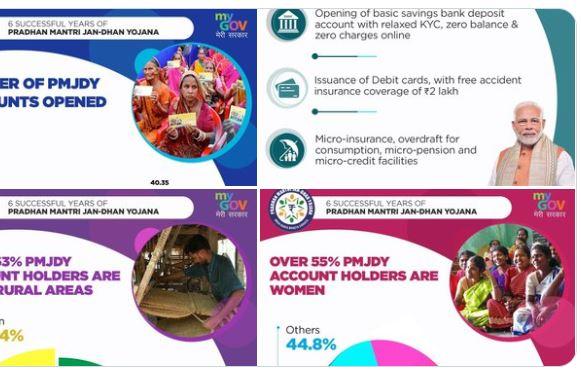 Prime Minister Narendra Modi shares, about 6 years of successful initiation of the Jandhan Banking scheme
Sharing the success of Jandhan Scheme PM Modi wrote on Twitter that "it's been 6 years since this initiation was taken by us with an ambition of connecting the people with no bank accounts with a bank account. In which aim Jan-Dhan initiation gets on the main role. Served and still serving a strong base for people of India that seek help with the government.
This Initiation has been benefitted crores of Indian Pople to Elevate their life to a comfort zone to live. Having a Strong foundation many people have got there back with it and removed the barriers of poverty".
Details of Benefits Provided by the ministry of finance:-
After the launch of the PMJDY banking project, over 40,35 Crore beneficiaries have been banked worth Rs 1,31 Lakh Crore.

63.6% Rural PMJDY accounts; 55.2%Women PMJDY accounts. Under PM Garib Kalyan Yojana, the PMJDY woman accounts paid a total of Rs. 30,705 crore in April-June 2020.

Nearly 8 crore PMJDY account holders earn the Government's direct fund transfer (DBT) under a number of schemes
On 28 August 2014, Prime Minister Narendra Modi unveiled this financial inclusion initiative. Scheme for Indian People to have a Jandhan Bank account. The aim was to connect more and more people from all over India including villages or any backward places with a bank account. Having a bank account will also give them all government benefits in their accounts and also then can connect their bank account with all other necessities.
Under this scheme 15 million bank accounts were opened on the inaugural day, run by the Department of Financial Services, Minister of Finance.
Latest Prime Minister Updates