Updated By: LatestGKGS Desk
Mann Ki Baat 30th August 2020 people want PM to speak on current topics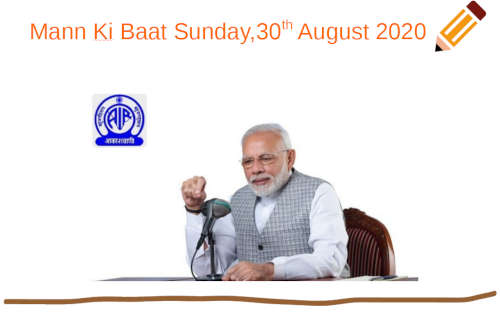 List of topics people want to listen from prime minister Narendra Modi on Sunday, 30th August 2020
Prime Minister Narendra Modi Radio program on All India Radio set to air on Sunday, 30th August 2020 at 11 AM. Prime Minister Office has invited ideas from the public that they want to listen to from the prime minister of India.
People of India can send their request to Prime Minister Office and direct to Prime Minister Narendra Modi's attention on the mygov.in portal.
Below are some of the highlights and topics that prime minister may include in their 30th August 2020 Mann Ki Baat to the Nation at 11 AM radio show:-
- Online active students putting up their queries to Mann Ki Baat regarding studies, classes, and entrance examinations.
- People of India requesting Prime Minister to look into various money stuck into various investment schemes like PACL.
- New Education Policy and it's implementation features are among the highly queried topics for upcoming Mann Ki Baat.
- People in Urban areas having locomotion disruption after lockdown and unlock period. Cityzen of Indians raising their concern from Mumbai and metro cities for Mann Ki Baat.
- Unemployment and Defense-related queries are also there in front of the office to include on Sunday, 30th August 2020.
Latest Narendra Modi Updates