Updated By: LatestGKGS Desk
GK Question 17th Oct 2018 Current Affairs, General Knowledge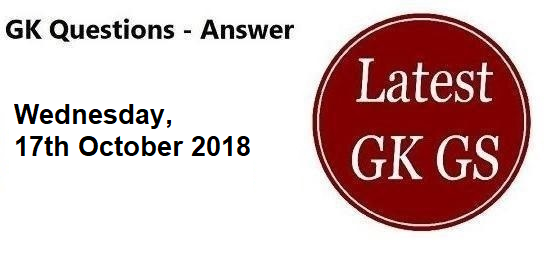 Daily GK Question 17th October 2018 Current Affairs, General Knowledge
1. Which government organization has recently dedicated a website to former President Dr. A.P.J.Abdul Kalam?
Ans:- DRDO
2. Recently, the restrictions on the visit of foreign tourists in some areas of the State / Union Territory have been abolished?
Ans:- Andaman and Nicobar Islands
3. Road Transport and Highways Minister Mansukh Lal Mondavi launched the youth road safety trainee license program on October 15, 2018.
Ans:- New Delhi
4. For the first time, the three armies of India and which country will be organized in India in 2019?
Ans:- America
5. North Korea and which country have agreed to start its new project from November or December 2018 to connect rail and road between its borders?
Ans:- South Korea
6. Under which scheme did the Central Government announce awards of 100 crores of rupees for the states to complete the scheme of getting electricity every home?
Ans:- Saubhagya yojana
7. According to the Global Hunger Index-2011, in which country is one child of every five children under five years of age (21%) is suffering from severe malnutrition?
Ans:- India
8. Recently, the Uttar Pradesh Government has announced the name change of Allahabad?
Ans:- Prayagraj
9. What is the name of Microsoft's co-founder who died recently?
Ans:- Paul Allen
10. The announcement of the resumption of caravan-e-aman bus service that runs between India and the country?
Ans:- Pakistan