Updated By: LatestGKGS Desk
Buddha Purnima or Buddha Jayanti Celebrated on 30 April 2018 Importance History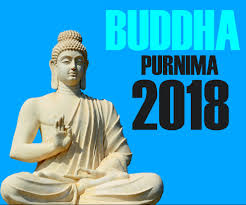 Buddha Purnima or Buddha Jayanti Celebrated on 30 April 2018 Importance, History, Details
Buddha Purnima or Buddha Jayanti is celebrated as to mark the birth anniversary or enlightenment day of Lord Gautam Buddha.
Gautam Buddha birth name was Siddhartha Gautama was a king and was a spiritual teacher on whose teachings religion of Buddhism was founded.
Buddha Purnima has a special importance as the day commemorates the birth, death and the enlightenment of Lord Buddha, all of which is said to take have taken place on the same day.
Buddha Purnima celebrations date varies from year to year according to the Western Gregorian calendar. This year it is celebrated on 30th April 2018.
Buddha Purnima is also referred as 'Vesak' or 'Buddha Day' as during this Vesakha month Gautam Buddha was born. However, the time of Gautama Buddha's birth and death is not certain.
As the auspicious occasion is marked on a full moon day or Purnima, the occasion is referred as Buddha Purnima in India. Buddha Purnima is a national holiday in India.
Buddha Purnima is celebrated as a traditional holiday marked as "Buddha's Birthday" by Buddhists and some Hindus on different days the countries including India, Sri Lanka, Tibet, Nepal, Bhutan, Bangladesh, Indonesia, Malaysia, Thailand, Laos, Myanmar, Mongolia, Cambodia, Phillippines and China, Japan, South Korea, North Korea, Taiwan and Vietnam and in many other parts of the world.
Most of the world historians have marked Gautam Buddha's lifetime between 563-483 B.C and birthplace in Lumbini, Nepal. He certainly died at the age of 80 at Kushinagar in Uttar Pradesh, India.
According to history, it is believed that Siddhartha Gautama attained enlightenment underneath a Bodhi tree at Bodhgaya in Bihar. He delivered his first sermon at Sarnath, India.