Teej Festival Celebration History, Mythology, Rituals, States, Country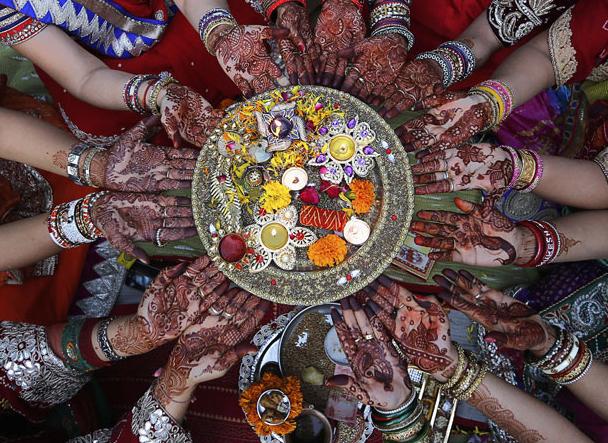 Hindu Women Festival Teej History, Mythology, Rituals, Social Importance, Celebration in Rajasthan, Bihar, UP, Punjab, Haryana, and Nepal
Teej is a generic name for a number of festivals that are celebrated by women mainly in Nepal and some parts of India.
Teej is one of the most sacred Hindu festivals observed in India. It is observed in different parts of the country by the womenfolk to seek blessings for their husband's long life. Teej honours the devotion of Ma Parvati who underwent penance for years to become the consort of Shiva. Women seek her blessings for a happy married life and unmarried girls fast to attain an exemplary husband like Shiva.
According to Hindu mythology, Goddess Parvati reunited with Lord Shiva on this day. She went through hard-core tapasya or penance and took 108 births on the earth. The myth also states that she failed to have Lord Shiva as her husband till 107th birth. In her 108th birth, Lord Shiva realized her devotion and love for him and accepted her as his wife.
Teej, a three-day-long Hindu festival, is dedicated to Lord Shiva and Goddess Parvati. It falls in the month of Shravana or Sawan and Bhadrapada or Bhado, that corresponds to the Indian monsoon season of July - August - September. The exact day on which it is celebrated is determined by the moon's cycle.
States and Countries celebrating fasting festival Teej
This festival is celebrated in different states - Rajasthan, Bihar, UP, Punjab, Jaipur, Haryana and even Kathmandu - and different religions with different names. There are 3 variants of Teej festival, namely Hariyali, Kajari and Hartalika Teej. Each of them is celebrated with equal vigour and fervour by women.
This festival is a symbol of the dedication of goddess Parvati for Lord Shiva. Even today, women commemorate this mythological event by keeping a Nirjara Vrat for their husband's well being and long life. This festival also helps in strengthening the bond between couples. This festival also welcomes the advent of Monsoon season.