Updated By: LatestGKGS Desk
International Tiger Day Observed On 29th July: Details, Aim, Significance, History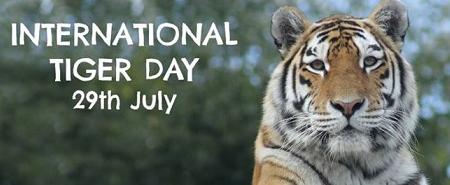 International Tiger Day Observed On 29th July: Details, Aim, Significance, History
International Tiger Day was celebrated on 29th July 2018 across the world to raise awareness about tiger conservation.
International Tiger Day main aim is to promote a global system for protecting the natural habitats of tigers and to spread public awareness and support for tiger conservation issues.
International Tiger Day was first marked in 2010 at the Saint Petersburg Tiger Summit in Russia.
International Tiger Day was announced after the authorities noticed the frequent fall in the number of wild tigers.
International Tiger Day focuses on several factors that have caused tiger's numbers to fall, including habitat loss, climate change, hunting, and poaching etc.
India At A Glance
In India, the number of wild tigers counts every four years and have shown a promising rise from 1411 in 2006 to 2226 in 2014. According to World Wide Fund for Nature (WWF), the world population of Tigers in 2016 was above or approx 3900.
India has a leading role to play in tiger conservation as the nation is home to about 70% of the tiger population in the world.
The Project Tiger, administered by the National Tiger Conservation Authority of India (NTCA), and various associations working towards the common goal of 'Save the Tiger' have contributed massively to not just conserve the big cat's population but also make India the country with the largest population of tigers in the world.