Updated By: LatestGKGS Desk
India's First Female Doctor Anandi Gopal Joshi Profile, Early Life, Education, Death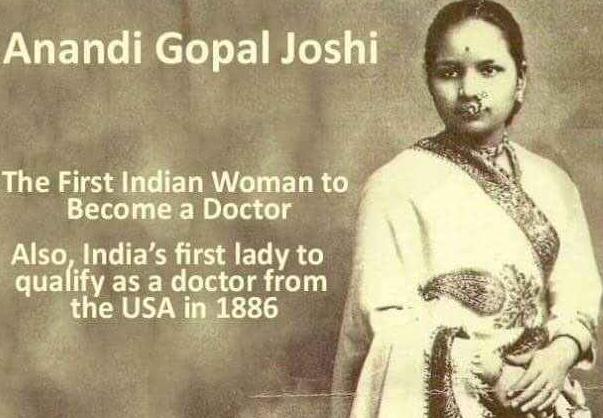 India's First Female Doctor Anandi Gopal Joshi- Profile, Early Life, Education, Death
India's First Female Doctor Anandi Gopal Joshi (birth name Yamuna) was born on 31st March 1865 to an orthodox Brahmin family in Kalyan, Maharashtra.
Dr. Anandi Gopal Joshi at an early age of 9 years was married to a widower, almost thrice of her age named 'Gopalrao Joshi'. She renamed her name from Yamuna to Anandi after getting married.
Dr. Anandi Gopal Joshi at the age of 14 years gave birth to her first child, a boy but unfortunately, he died after surviving for 10 days due to lack of medical care.
Dr. Anandi Joshi while pursuing her interest for medicine faced ill-health, Once in America, Anandibai wrote to the Women's Medical College of Pennsylvania asking for admission to their medical program, the second women's medical program in the world. Rachel Bodley, the dean of the college, enrolled her.
Dr. Anandi Joshi started her medical studies at the age of 19 years and got graduated with an MD on 11 March 1886. The topic of her thesis was "Obstetrics among the Aryan Hindus". Queen Victoria congratulated her on her graduation.
Dr. Anandi Joshi returned to India, amid the grand celebration, in late 1886. She was appointed as the physician-in-charge of the female ward of the local Albert Edward Hospital by the princely state of Kolhapur.
Dr. Anandi Joshi while in America had contracted tuberculosis because of the cold weather and unfamiliar diet. She died 26 February 1887 before turning 22. Her death was mourned throughout India.
Dr. Anandi Joshi biography was written by 'Caroline Wells Healey Dall' in 1888. Later, Shrikrishna Janardan Joshi also wrote a Marathi novel 'Anandi Gopal' based on her life.
India's TV channel, Doordarshan, also featured a Hindi serial "Anandi Gopal", directed by 'Kamlakar Sarang', which was based on her life.