Updated By: LatestGKGS Desk
8 June: World Oceans Day 2019 Theme, Details, Aim, Significance, History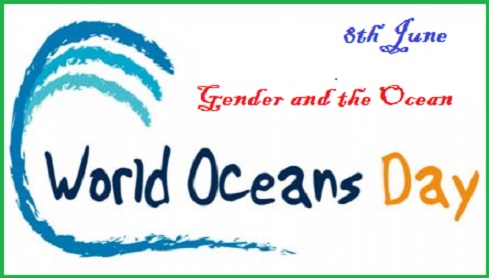 8 June: World Oceans Day 2019 Theme, Details, Aim, Significance, History
World Oceans Day is being observed every year on 8th June to raise global awareness of current challenges faced by the international community in connection with the oceans.
World Oceans Day also aims to provide a unique opportunity to honor, protect, and conserve the world's oceans.
World Oceans Day-2019 theme is on "Gender and the Ocean".
World Oceans Day-2019 theme aims to promote gender equality in ocean-related activities such as marine scientific research, fisheries, labor at sea, migration by sea and human trafficking, as well as policy-making and management.
Significance of Oceans
Generate most of the oxygen we breathe
Provides food thus help to feed us
Regulate climate
Help to clean the water we drink
Offer a pharmacopeia of medicines
History
World Oceans Day was first declared by the United Nations General Assembly (UNGA) through its resolution 63/111 of 5 December 2008, designated 8 June as the World Oceans Day.
World Oceans Day was first proposed in 1992 at the Earth Summit in Rio de Janeiro as a way to celebrate the world's shared ocean and to raise awareness about the crucial role the ocean plays in our lives.