Updated By: LatestGKGS Desk
26 August: Women's Equality Day 2019 Celebrations In United States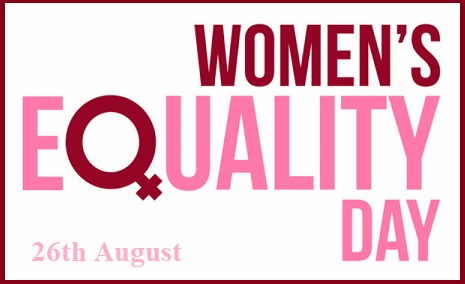 26 August: Women's Equality Day 2019 Celebrations In United States: Details, Aim, Significance, History
Women's Equality Day is celebrated on 26th August every year in the United States to mark women's advancements toward equality with men.
Women's Equality Day was first celebrated in the year 1973 and is proclaimed each year by the United States President.
Women's Equality Day commemorates the 1920 adoption of the Nineteenth Amendment (Amendment XIX) to the United States Constitution. The Nineteenth Amendment prohibits the states and the federal government from denying the right to vote to citizens of the United States on the basis of sex.
On Women's Equality Day, Women's rights organizations and groups that work in the area of voting rights celebrate this day by holding seminars and workshops that address issues and problems currently faced by women in the country.
Schools and educators also celebrate the Women's Equality Day as an opportunity to educate students of the long and often difficult journey of the women's rights movement to gain basic human rights.
Latest United States Updates