Updated By: LatestGKGS Desk
SC Verdict: List of services where Aadhaar 'is' & 'not' mandatory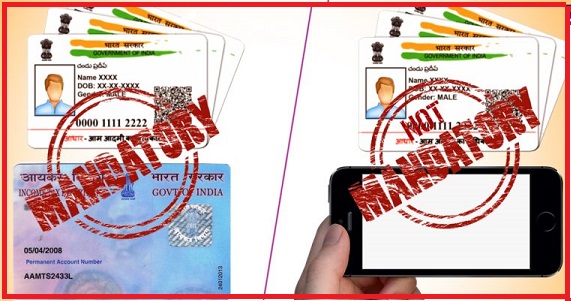 Supreme Court Verdict Sep-2018: List of services where Aadhaar 'is' & 'not' mandatory now: Details, Highlights
The Supreme Court in a historic verdict on the Aadhaar Act, verify its Constitutional validity and listed out a number of services where Aadhaar is not required.
SC five-judge constitution bench, led by Chief Justice Dipak Misra, struck down Section 57 of the Aadhaar Act which allowed not only the government but also any "body corporate or person" or private entity to demand Aadhaar.
Aadhaar will no longer be mandatory for availing services such as:
1. Mobile companies for new connections cannot ask for Aadhaar
2. Private entities can't access your Aadhaar
3. Aadhaar not needed for school admissions
4. Aadhaar not required for the opening of bank accounts
5. Aadhaar not required for UGC, NEET and CBSE examinations
Government can't disclose data on national security grounds: The controversial Section 33(2) of the Aadhaar Act, which makes an exception to the primacy of security of data of an individual and allows an officer of the rank of joint secretary to disclose it in matters of national security, has been revoked by the Supreme Court.
Aadhaar will continue mandatory for availing services such as:
1. PAN card
2. Filing income tax returns (ITR)
3. Government Welfare Schemes

Latest Aadhaar Authentication Updates