Updated By: LatestGKGS Desk
Alphonso (Hapus) Mango Features, Geographical Indication, Konkan Region Fruit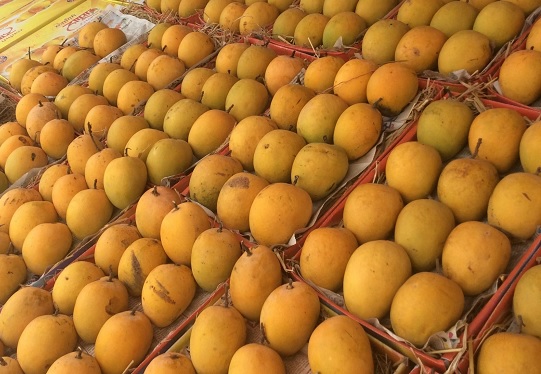 Ratnagiri, Maharashtra Alphonso (Hapus) Mango Geographical Region, Geographical Indication Tag, Export Quality Mango for Japan, Korea, Australia
Alphonso Mango, born in Maharashtra's Ratnagiri, Sindhudurg, Palghar, Thane and Raigarh districts, has recently been registered as 'Geographical Indication' (GI).
Recently, Commerce and Industry Minister Suresh Prabhu, while launching 'Logo and Tagline' for the Geographical Indications of Indian goods, said that this will allow artists to get their right to the intellectual property of producers and the right to the origin of that product.
Alphonso (Hapus) is one of the finest varieties of mango is grown in the Tehsil Deogarh of Sindhudurg district situated in the Konkan region of Maharashtra, as well as grow on the ground on the side of the best common ocean coast in 20 kilometres. Apart from this, Ratnagiri district of Maharashtra, Southern district of Gujarat, Valsad and Navsari is also famous for the production of Alphonso. Alfonso has been started in some areas of Bihar even before some time.
Alphonso is said to be the king of mango and in Maharashtra, it is known as hapus. Due to its tasteful taste, unique fragrance and bright colours, it is quite demanding in the international markets besides India.
In the world, it has been a long-famed fruit and it has been exported to Japan, Korea and Europe. Recently America and Australia have also approved its imports in their markets.
The first GI tag in India was given to Darjeeling Tea in 2004 and the total number of products in this country achieving this tag is 325.