Updated By: LatestGKGS Desk
Nepal becomes world's 1st country to double its tiger population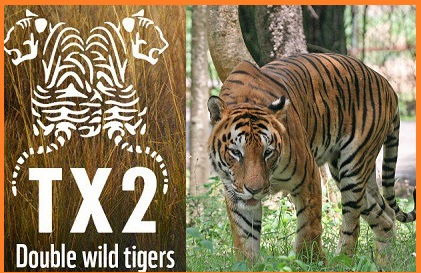 Nepal becomes world's first country to double its tiger population: Details, Significance, Highlights
Nepal becomes the first country in the world to double its tiger population as part of the World Wildlife Foundation's (WWF) 'Tx2' programme which aims to double the number of tigers all over the world.
Nepal Government has announced on 24th September 2018, on the occasion of National Conservation Day, that there are now an estimated 235 wild tigers in the nation, nearly double the number from around 121 in 2009.
Nepal had conducted a national tiger survey between November 2017 and April 2018 in the transboundary Terai Arc Landscape (TAL), a vast area of diverse ecosystems shared with India.
The survey revealed that Nepal's tiger population rose to 235 from 121 in 2009.
The earlier tiger survey in 2013 had estimated the tiger population in the nation to be around 198.
With four years remaining before the 2022 deadline, Nepal looks set to achieve its goal of doubling the tiger population.
However, this only underscores the continued need to ensure protection and improved and contiguous habitats for the long-term survival of the species.
The success of Nepal in doubling tiger numbers has been largely attributed to the country's political commitment and the adoption of innovative tools and approaches towards tiger conservation.
Nepal was the first country to achieve global standards in managing tiger conservation areas, an accreditation scheme governed by the Conservation Assured Tiger Standards (CA|TS).