Updated By: LatestGKGS Desk
GK Questions 29th August 2019 General Knowledge, Current Affairs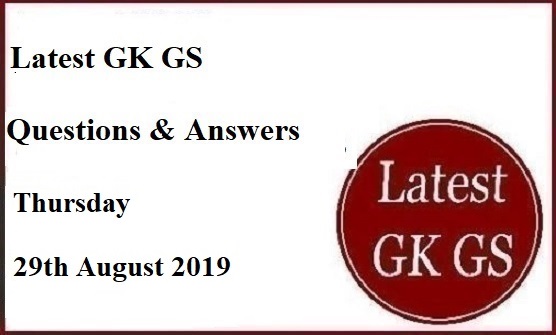 Daily GK Questions Thursday 29th August 2019 General Knowledge, Current Affairs
1. When is the National Sports Day observed every year in India?
Ans: 29th August
2. Name India's first woman Director General of Police (DGP) who passed away recently.
Ans: Kanchan Chaudhary Bhattacharya
3. Who has become the first IPS officer to be honored with the prestigious Tenzing Norgay National Adventure Award 2018?
Ans: Aparna Kumar
4. Who among the following is not a part of the five-member GoM set up by the government for Jammu & Kashmir and Ladakh?
Ans: Smriti Irani
5. The Supreme Court has referred the Article 370 petitions for hearing to a special constitution bench. The bench will comprise how many members?
Ans: Five
6. Who has been appointed as the new Chairperson of PMLA Appellate Tribunal?
Ans: Sunil Gaur
7. Which telecom company topped the telecom market with the highest revenue share in the April-June quarter?
Ans: Jio
8. The Indian Railways has decided to offer how much discount in its AC Chair car trains like Shatabdi, Tejas?
Ans: 25 percent
9. The Indian Institute of Petroleum recently established a plant to turn plastic waste into diesel in which city?
Ans: Dehradun
10. Which city will host the 14th session of the Conference of the Parties of UNCCD?
Ans: New Delhi
11. PM Narendra Modi Launches which health movement on 29th August 2019?
Ans: Fit India Movement