Updated By: LatestGKGS Desk
Chandrayaan 2 getting closer to Moon, enters lunar orbit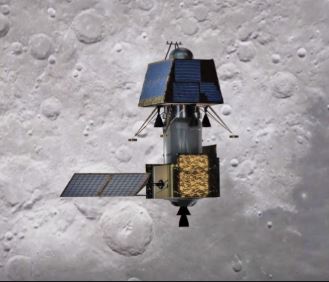 Chandrayaan 2 getting closer to Moon, enters lunar orbit
India's Chandrayaan-2 on 20th August 2019 morning at 9.02 am, successfully entered the Moon's lunar orbit.
The Indian Space Research Organisation (ISRO) in a statement confirming the Lunar Orbit Insertion (LOI) of Chandrayaan-2.
The Lunar Orbit Insertion (LOI) is very crucial as the approach velocity of Chandrayaan-2 must be accurate. ISRO scientists believe that even a smaller mistake can hamper the whole mission and efforts.
Chandrayaan-2 is going around Moon with an inclination of 88 degrees. In due course, this orbit will be brought down and at that time the inclination will achieve 90 degrees.
The next most important event will happen on 2nd September when the lander will be separated from the orbiter.
Chandrayaan-2 was launched from Satish Dhawan Space Center in Sriharikota on 22 July. It will land on the South Pole of the Moon 48 days later on 7 September.
Chandrayaan-2 was launched with GSLV-MK3 rocket.
Latest Chandrayaan 2 Updates