Updated By: LatestGKGS Desk
Chandrayaan-2 Launched Successfully On 22nd July 2019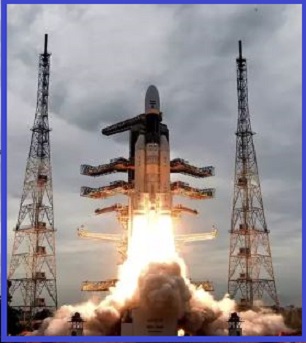 Chandrayaan-2 Launched Successfully On 22nd July 2019
India's heaviest rocket Geosynchronous Satellite Launch Vehicle (GSLV) Mk-III, popularly called as 'Bahubali' on 22nd July 2019 carried the Chandrayaan-2 mission successfully from the Satish Dhawan Space Centre (SDSC) in Sriharikota, off the coast of Andhra Pradesh.
Chandrayaan-2 mission is a Rs 978-crore project.
Chandrayaan-2 mission target is to find more evidence of water, clues about the moon's evolution and work the natural satellite as a testbed for more space missions concerning the solar system. It will be the first operational flight of GSLV-Mk-3 which is a 640-tonne rocket.
Chandrayaan-2 mission is the world's first mission to Moon's the South Pole. If successful, India will become the fourth nation to soft-land on the Moon after the United States, Russia, and China.
Key Highlights
Earlier, Chandrayaan-2 mission was planned to be lifted off on 15 July 2019. But the plan was aborted by the Indian Space Research Organization (ISRO) due to a technical glitch.
Chandrayaan 2 mission is set to explore the south polar region of the Moon, which is also known as Dark Side of the Moon due to the absence of sunlight in and around the craters of the Lunar Polar surface.
Chandrayaan 2 carried 3 components namely the Orbiter, The Lander 'Vikram', and the Rover 'Pragyaan. The Lander has been named after the father of the Indian Space Programme, Dr. Vikram A Sarabhai.
Chandrayaan-2 will take 54 days to accomplish the task of landing on the Moon through meticulously planned orbital phases.