Updated By: LatestGKGS Desk
Gaj Yatra Campaign Flagged Off In Garo Hills Of Meghalaya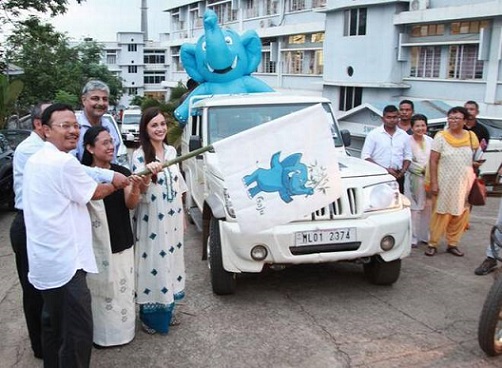 Gaj Yatra Initiated In Garo Hills Of Meghalaya- Details, Purpose, Schedule, About
Ministry of Environment, Forest and Climate Change (MoEFCC) has initiated 'Gaj Yatra' campaign, an awareness campaign to protect elephants from Tura in Garo Hills of Meghalaya.
The Gaj Yatra campaign is an initiative that was organised by the Wildlife Trust of India (WTI) in collaboration with the State Forest Department.
The Gaj Yatra campaign was flagged off in the presence of WTI Brand Ambassador Actress Dia Mirza and other high-grade government officers at an event in Dakopgre, Tura, Meghalaya on 29th May 2018.
Under the Gaj Yatra campaign, an elephant mascot will be taken across districts frequented by jumbo herds for generating awareness among the people. It was launched to the acknowledged good gesture of villagers from Garo Hills who had set aside part of their community-owned land to create village reserve forests for human-elephant harmony.
About Gaj Yatra Campaign
Gaj Yatra is the 18-month-long national campaign aimed to protect elephants, India's national heritage animal in 12 elephant range states. It was launched in August 2017 by Environment and Forest Minister Harsh Vardhan on the occasion of World Elephant Day 2017 (observed on August 12).
The Gaj Yatra campaign is being led by Wildlife Trust of India (WTI). It aims to involve people from all walks of life in the conservation of elephants. Under this campaign, WTI is securing 101 elephant corridors across in 12 elephant range states through its Right to Passage project in partnership with Union government's Project Elephant, state forest departments and various NGOs.
The aim of this project is to rehabilitate people affected by man-elephant conflict in corridor areas while ensuring uninterrupted movement of elephants between key habitats.