Updated By: LatestGKGS Desk
Meghalaya Geography, Location, Landmass, Terrain, Rivers, Dams, Features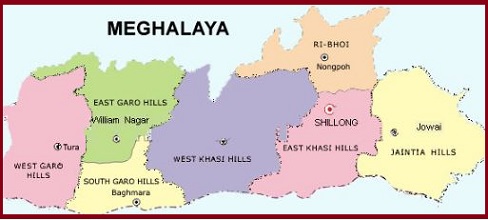 Meghalaya Geography, Location, Landmass, Terrain, Rivers, Dams, Features
Meghalaya is a state in northeastern India. Its capital name is Shillong. It was commissioned to Indian Union on 21st January 1972.
Meghalaya name means "the abode of clouds" in Sanskrit. The world's wettest places are located in Meghalaya.
Meghalaya is bordered by Bangladesh in the south and the Brahmaputra valley in the north and by the Indian states of Assam to the east
Meghalaya has 11 districts and covers an area of 22,429 sq km of land. The landscape of Meghalaya is mostly rolling plateau with south-facing slopes being extremely steep. With the hill rising to 2,000 m, the state is cool despite its proximity to tropics.
Meghalaya climate changes with the augment of monsoon i.e. hot, humid & cold & warm at different parts.
Meghalaya is one of the tiny states of India.
Rivers
West to East: Kalu, Ringgi, Chagua, Ajagar, Didram, Krishnai and Dudnai.
Southern system: Daring, Sanda, Bandra, Bhogai, Dareng, and Simsang (largest river)
In the central and eastern section of the plateau, the important northward-flowing rivers are Umkhri, Digaru, and Umiam and the south-flowing rivers are Kynchiang (Jadukata), Mawpa, Umiew or Barapani, Myngot, and Myntdu.
It is also lies buried under the alluvium deposited by the Ganga-Brahmaputra system of rivers. This gap is known as Malda gap (between Raj Mahal hills/Chhota Nagpur and the Shillong Plateau
Hills
Garo Hills
Khasi Hills
Meghalaya
Capital: Shillong
Largest City: Shillong
Districts: 11
Official Language: English
Population: 3,211,474+
Literacy: 75.84%
Major Crops: Rice, maize, millet, potatoes, pepper, chilies, cotton, ginger, jute, betel nuts, fruits (including oranges and mangoes), and vegetables.
State Animal: Clouded Leopard
State Bird: Hill Myna
State Flower: Lady Slipper Orchid
State Tree: Gamhar
Governor: Tathagata Roy

Chief Minister: Conrad Sangma(NPP)