Updated By: LatestGKGS Desk
Minister of CPM Piyush Goyal on 2 day visit to Sweden from 1 Nov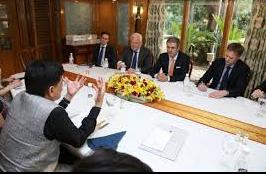 The Union Minister of State for Coal, Power and Minster, MR. Piyush Goyal visited on a 2 day trip on 1st November 2016
Swedish Minister for policy coordination and energy MR. Ibrahim Baylan has invited Goyal to visit to Sweden for bilateral meeting and review the cooperation in the energy sector and take steps for collaboration.
The collaboration with respect to water treatment, solar energy, mining, smart metering, waste efficiency, distribution and transmission, hydropower etc.
President Pranab Mukherjee also visited Sweden in 2015
The conference was also held and discussions relating to topics Green Financing and Investment, Smart Grid and Energy Solutions, Smart Cities, Electro Mobility and Waste to Energy etc.
This visit strengthen the relationship between India and Sweden as last year President Pranab Mukherjee visited Sweden.
Prime Minister Stefan Lofven visited in February 2016 for Make in India week in Mumbai.
Latest Piyush Goyel Updates