Updated By: LatestGKGS Desk
Railway Ministry Launches 'Menu On Rail' App To Provide Food List For Passengers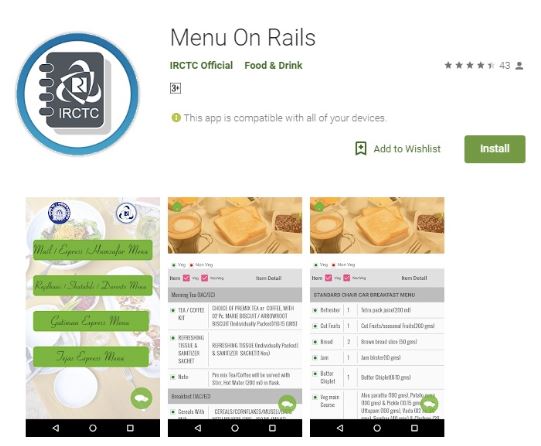 Railway Ministry Launches 'Menu On Rail' App To Provide Food List For Passengers- Details, Features, Purpose, Benefits
Ministry of Railways has launched a mobile application named 'Menu On Rail' to show food list and its price to railway passengers.
The 'Menu On Rail' Mobile App was launched by Railway Minister, Piyush Goyal on 11th June 2018 in New Delhi.
Passengers can now easily check the maximum retail price (MRP) of food items on IRCTC's newly-launched "Menu on Rail" App.

The 'Menu On Rail' will display menu to passengers traveling in all types of trains viz Mail/Express, including Humsafar Train, Rajdhani, Shatabdi, Duronto, Gatiman Express and Tejas Express;

Under 'Menu On Rail' App for Mail/Exp trains, food items are covered in 4 categories as Beverages, Breakfast, Meals, and A-La-Carte. The rates (inclusive of taxes) for standard food items are given for trains as well as stations (excluding food plazas and fast food units).
A-la-carte includes a list of 96 items under the categories of breakfast, light meals, combo meals, non-vegetarian, Jain food, sweets, diabetic foods etc.
The 'Menu On Rail' App will also show pre-booked food items for EC (executive chair car) and CC (AC chair car) classes in case of Shatabdi trains and 1A, 2A and 3A classes for Rajdhani and Duronto trains.
The 'Menu On Rail' App can be easily downloaded from Google Play Store for Android users and from iOS platforms. The Mobile App website version is also available for users on (www.irctc.co.in)
The 'Menu On Rail' will help in creating awareness among Railway passengers about food items available and price.
The 'Menu On Rail' in case of Mail/ Express trains it will help in controlling the overcharging of catering items