Updated By: LatestGKGS Desk
India Celebrates National Sports Day On 29th August 2018: Details Celebration History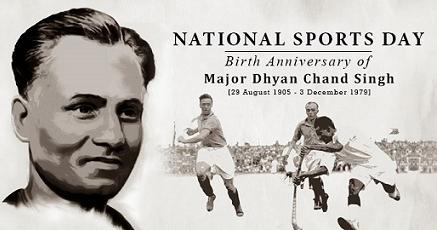 India Celebrates National Sports Day On 29th August 2018: Details, Celebrations, History
National Sports Day is observed every year on 29th August in India. The day is also known as 'Rashtriya Khel Divas' or 'National Sports Day of India', this holiday is a very popular holiday in India, especially when the Summer Olympic Games are going on.
National Sports Day also marks to commemorate and honor the birthday anniversary of Dhyan Chand, a field hockey player who is considered by many to be the world best of all time. He was born on 29th August 1905 and died on 3rd December 1979.
National Sports Day is a holiday in India, the President of India usually give out sports awards. Some of these awards include the Dronacharya Award, Rajiv Gandhi Khel Ratna, and the Arjuna Award.
On National Sports Day, several people gathered around one of the Dhyan Chand statues across India and place flowers on them.
However, some of the most crucial celebrations occur every four years during the Summer Olympics. This is when friends and families not only gather together to remember the greatest field hockey player of all time, but also to root on their favorite athletes.