Updated By: LatestGKGS Desk
Himachal Pradesh's Lippa-Asra wildlife sanctuary spotted a Snow leopard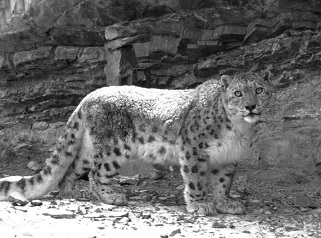 Himachal Pradesh's Lippa-Asra wildlife sanctuary spotted a Snow leopard: Details, About
Snow leopard was spotted at height of about 4,000 meters in Lippa-Asra wildlife sanctuary in Kinnaur district of Himachal Pradesh.
Snow leopard picture was captured by camera-trap installed by State Wildlife Department. These findings have comprehended that snow leopards are inhabiting in new areas.
About Snow leopard
Snow leopard (Panthera uncial) is large cat native to mountain ranges of Central and South Asia- including the Himalayas, and Russia's remote Altai mountains.
Snow leopard inhabits in alpine and subalpine zones at elevations from 3,000 to 4,500 m. In India, it is found in states of Jammu & Kashmir, Himachal Pradesh, Uttarakhand, Sikkim, and Arunachal Pradesh.
Project Snow Leopard was launched in 2009 to safeguard and conserve Snow Leopard (a unique natural heritage of high-altitude) and its habitats by promoting conservation through participatory policies and actions.
About Lippa-Asra wildlife sanctuary
Lippa-Asra wildlife sanctuary is part of district Kinnaur in Himachal Pradesh and also is part of Moorang town. It was established in 1974 and is spread over an area of 3089 hectares. It hosts a wide range of flora and fauna due to varied elevation, different climatic situation and topographical type of weather found in its vicinity.
Latest Himachal Pradesh Updates