India's Swasth Bharat Yatra national campaign for food safety 'Eat Right India'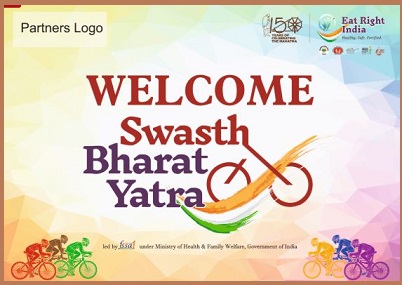 India's Swasth Bharat Yatra national campaign for food safety: Details, Aim, Highlights
The Government of India has recently launched a national campaign 'Swasth Bharat Yatra' on the occasion of World Food Day that was observed on 16 October 2018.
The Swasth Bharat Yatra national campaign aims to aware people about eating safe food and be healthy. The campaign was launched in association with states and led by Food Safety and Standards Authority of India (FSSAI).
Under the Swasth Bharat Yatra national campaign, Pan-India cycle rally has been organised to create consumer awareness about eating safe and nutritious food for becoming healthy and combating food adulteration.
In this cycle rally, about 7,500 cyclists are expected to participate in over 18,000 km traveling across six tracks through almost every state and UT over 100 days to propagate a powerful message 'Eat Right India'.
The cyclathon will culminate in the national capital on 27th January 2019.
The Swasth Bharat Yatra national campaign will not only mobilise masses but also will create a large pool of local community to sustain this movement.