Updated By: LatestGKGS Desk
First Women PM of India Bharat Ratna Indira Gandhi Profile Education Political Career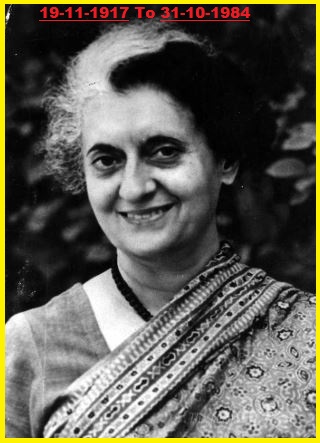 First Women Prime Minister of India Bharat Ratna Indira Gandhi Profile, Education, Political Career, Awards- Highlights
Indira Gandhi was the first woman and 3rd Prime Minister of India, in office from (24th January 1966 – 24th March 1977) and then (14th January 1980– 31st October 1984).
Indira Gandhi was born at 19th November 1917 in Allahabad. She was the daughter of the first Indian Prime Minister Pandit Jawaharlal Nehru and mother Kamla Nehru. She was assassinated at shootout on 31st October 1984 at her residence by her own security guards.
Indira Gandhi did her Metric from Pune University and went to Shantiniketan in West Bengal. She later went on to study in Switzerland and Oxford University in London.
Indira Gandhi, despite his father's objections, married Feroze Gandhi in 1942. They have two son's Rajiv Gandhi (1944) and Sanjay Gandhi (1946). His elder son Rajiv Gandhi became 6th Prime Minister of India (1984 to 1989).
Indira Gandhi became Congress Working Committee member in 1955 and selected as President in the year 1959. She also became a Cabinet member of the Lal Bahadur Shastri. After the demise of Lal Bahadur Shastri Ji in 1966, she was selected as the Prime Minister of India in 1966.
Indira Gandhi played a major role in strengthening the Indian democratic structure and tradition. She handled the war of 1971 against Pakistan and won it. The signing of the Shimla Pact with Pakistani Premier Z.A. Bhutto, Indo-Soviet Treaty of Peace, Friendship and Cooperation was done under her leadership.

Under her leadership the first nuclear tests at Pokhran took place. First Asian Games in the New Delhi, first Astronaut Squadron Leader, Rakesh Sharma had gone to the Space and the growth of the Indian Space Research and Peaceful Nuclear development gone under her proficient guidance.
Indira Gandhi was granted with the great Indian award, Bharat Ratna in 1971.