Updated By: LatestGKGS Desk
Report On Delhi Air Pollution: Reducing Life Expectancy By 10 Years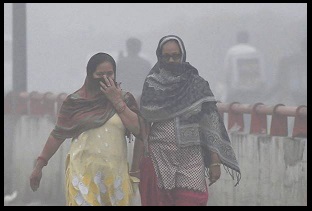 Report On Delhi Air Pollution: Reducing Life Expectancy By 10 Years- Details, Highlights
According to a recent study conducted by researchers from the University of Chicago (United States) in the last 20 years, Delhi has been 10 times more polluted which is reducing the life expectancy of its citizen by 10 years.
According to the study in collaboration with the Energy Policy Institute (EPIC) of the Air Quality Life Index (AQLI) impacted that Delhi's NCR region is facing devastating air pollution conditions. Globally particulate pollution reduces average life expectancy by 1.8 years, making it the greatest global threat to human health.
India is today the world's second most polluted country in the world and Delhi NCR was the second among 50 most polluted areas of India.
AQLI is an index in which the effect of air pollution on life has been assessed. Air pollution has attracted attention in Delhi in the year 2016 when an average of 113 microgram antibiotic meter pollution was detected here.
As per the study, If the quality of clean air is determined by the World Health Organization (WHO), if Delhi gets air on that basis, people living here will be able to live 10 more.

According to WHO, the safe range of PM 2.5 should be 10 micrograms per cubic meter annually. Based on Indian standards, this limit has been increased to 40 micrograms per cubic meter.
The AQLI reveals that India and China, which make up 36 percent of the world's population, account for 73 percent of all years of life lost due to particulate pollution.
Latest Air Pollution Updates