Updated By: LatestGKGS Desk
India Mourns On 26/11 Mumbai Terror Attack: Marks Its Tenth Anniversary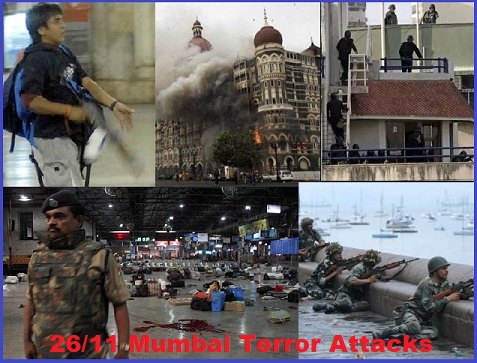 India Mourns On 26/11 Mumbai Terror Attack: Marks Its Tenth Anniversary: Details, Highlights
India mourns on 26/11 and marks the tenth anniversary of the Mumbai terror attacks today on 26th November 2018, that left 166 people dead and over 300 people injured.
2008 Mumbai Attacks also known as '26/11 Mumbai terror attacks' were a group of terrorist attacks that took place from 26th November 2008 to 29th November 2008 which assaulted the financial capital of India.
26/11 Mumbai terror attacks devastating incident happened when 10 heavily-armed Pakistan based Lashkar-e-Taiba terrorists, carried out a series of 12 coordinated shooting and bombing attacks.
In 26/11 Mumbai terror attacks, as on record, 166 people died and 308 were wounded in eight different parts/places of Mumbai city.
26/11 Mumbai terror attacks occurred in eight places of South Mumbai which includes: Chhatrapati Shivaji Terminus, the Oberoi Trident,the Taj Palace & Tower,Leopold Cafe, Cama Hospital, the Nariman House Jewish community centre,the Metro Cinema,and in a lane behind the Times of India building and St. Xavier's College.
26/11 Mumbai terror attacks also saw a bomb explosion at Mazagaon, in Mumbai's port area and in a public-taxi at Vile Parle.
On 29 November, India's National Security Guards (NSG) conducted 'Operation Black Tornado' to flush out the remaining attackers; it culminated in the death of the last remaining attackers at the Taj Hotel and ended the attacks.
Pakistani terrorist Ajmal Kasab (21 years old) was caught alive and had to face court trials. He was hanged until death on 21 November 2012.
Terrorist Ajmal Kasab in his confessions to police admitted his nationality to Pakistan and membership with Lashkar-e-Taiba, an Islamic terrorist group of Pakistan led by Hafiz Muhammad Saeed.
Pakistan in return refused to take responsibility for 26/11 terror attacks. However, it later only agreed to clear the nationality of Ajmal Kasab and three more terrorists as from their own country.
However, In 2018 Former Pakistan Prime Minister, Nawaz Sharif admitted that Pakistan-based terrorists alliance were responsible for 2008 Mumbai Attacks.