47th Indian Navy Day On 4th December 2018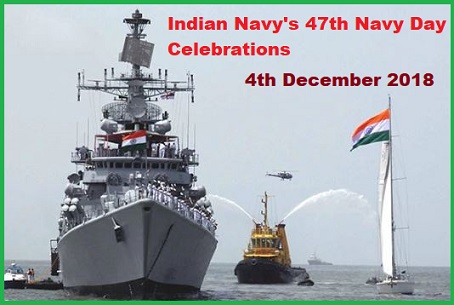 Indian Navy Celebrates 47th Navy Day On 4th December 2018: Details, Aim, Significance, History
Indian Navy Day is celebrated on 4th of December every year across the nation to celebrate the Indian Navy's achievement and as a tribute to the courage and determination made by the Indian Navy during the 1971 Indo-Pakistan War.
On 4th December 1971, the Indian Navy carried out 'Operation Trident', which was a devastating attack on Pakistan Naval Headquarters of Karachi.
The attack killed over 500 Pakistani Navy personnel and destroyed four Pakistani vessels. Three Indian Navy missile boats – INS Nirghat, INS Veer and INS Nipat – played an important role in the operation.
To commemorate this, 4th December is celebrated every year as the Indian Navy Day. This year 2018, Indian Navy marks its 47th celebrations.
Indian Navy Day is celebrated by showcasing the Indian Navy's technological progress and the maritime achievements of India.
In 2017, Indian Navy's award-winning innovations are put on display at the 'Innovation Pavilion' at the Navy House, New Delhi.
In 2017, a movie title 'The Ghazi Attack' was released. The movie is inspired by Indian Navy's attack on Pakistani's submarine in the India-Pakistan war of 1971.