Updated By: LatestGKGS Desk
70th Indian Armed Force Flag Day Celebrations On 7th December 2018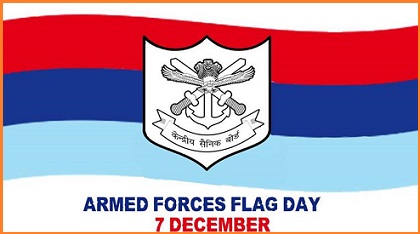 70th Indian Armed Force Flag Day Celebrations On 7th December 2018: Details, Celebrations, Significance, Highlights
The Indian Armed Forces Flag Day is celebrated every year on December 7 honor the soldiers, airmen and sailors of India who fought on the borders to safeguard country's prestige.
This year 2018, the Ministry of Defence launched the Indian Armed Forces Week to conduct a digital campaign to bring together the entire nation to express solidarity with the Armed Forces personnel.,
This year India will mark the 70th Armed Forces Flag Day and from 1st December 2018, the start of the Armed Forces week which will last till 7th December 2018.
To observe the Armed Forces Flag Day, three branches of the Armed Forces – Indian Army, Indian Air Force, and Indian Navy organizes a variety of programmes to showcase their efforts towards national security.
The Indian Armed Forces Flag Day is commemorated in order to collect the funds from people all around the country for the wellbeing of the staff of the Indian Armed Forces
The fund collected on the Flag Day is used for the welfare of serving personnel and ex-servicemen and also to rehabilitate battle causalities. Small flags are distributed on this day in return for voluntary contributions from people across India.
The Indian Armed Forces Flag Day was first celebrated in India on 7th of December in the year 1949.