Updated By: LatestGKGS Desk
Study: India is 4th highest emitter of carbon dioxide in the world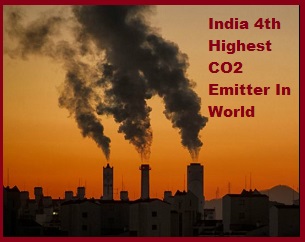 Study: India is the 4th highest emitter of carbon dioxide in the world: Key Findings
According to a study by the Global Carbon Project released on 07th December 2018, India is the 4th highest emitter of carbon dioxide in the world, accounting for 7 percent of global emissions in 2017.
The list of top 10 carbon-dioxide emitter countries in 2017, were China, the US, the EU, India, Russia, Japan, Germany, Iran, Saudi Arabia, and South Korea.
The top four emitters in 2017, which covered 58 percent of global emissions, were China (27 percent), the US (15 percent), the European Union (10 percent) and India (7 percent). The rest of the world contributed 41 percent last year.
India's emissions look set to continue their strong growth by an average of 6.3 percent in 2018, with growth across all fuels including coal (7.1 percent), oil (2.9 percent) and gas (6 percent).
The Indian emissions were projected to grow 2 percent in 2017, compared to 6 percent per year averaged over the previous decade, due to significant government interventions in the economy.
China, India and the European Union are setting the pace. These regions represent 40 percent of global carbon emissions. They are set to achieve more than what they agreed in the first round of Paris Agreement in 2015.
By 2020, India can announce its own fossil-fuel exit strategy and a target date for its peak CO2 emissions.