Updated By: LatestGKGS Desk
Former RBI Governor Urjit Ravindra Patel Profile, Early Life, Education, Career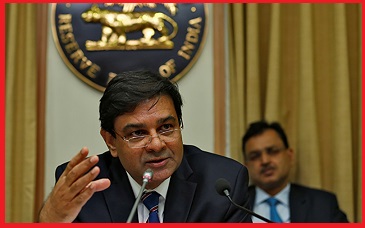 Former RBI Governor Urjit Ravindra Patel Profile, Early Life, Education, Career
Urjit Ravindra Patel born is an Indian economist who served as 24th Governor of Reserve Bank of India from 4th September 2016 to 10th December 2018.
Urjit Ravindra Patel appointment commenced under the NDA Government (BJP) when he succeeded Raghuram Rajan as RBI Governor after 1990s to resign from his post before his terms end on September 2019.
Urjit Ravindra Patel resigned from the post of RBI Governor citing personal issues. His actual retirement was due in September 2019.
Urjit Patel was born on 28 October 1963 (55-years-old) in Nairobi, Kenya. He holds the nationality of Kenya till 2013 and then onwards Indian.
Urjit Patel completed his schooling from Gujarati community's Visa Oswal Primary School and later at Jamhuri High School in Nairobi, Kenya. Later, he received bachelor's in Economics from the London School of Economics, received his doctorate in Economics from Yale University in 1990.
Urjit Patel started working with the RBI as an advisor, following which he was appointed as a consultant in the Department of Economic Affairs, Ministry of Finance.
He has previously been a non-resident Senior Fellow at the Brookings Institution since 2009.
Urjit Patel also served at IMF India desk during the 1991–94 transition period. He was posted to IMF country mission in India between 1992 and 1995.
Urjit Patel prior to his appointment as RBI Governor was the Deputy Governor of RBI. He mainly looked after monetary policy, economic policy research, statistics and information management, deposit insurance, communication and Right to Information.
Urjit Patel during RBI Governor competes for some drastic challenges in Indian economy such as historic Demonetisation, Change in Monetary Policy, Battle against NPAs through the bankruptcy code & Decline in Rupee.