Updated By: LatestGKGS Desk
Former Mizoram CM Zoramthanga Profile, Education, Political Career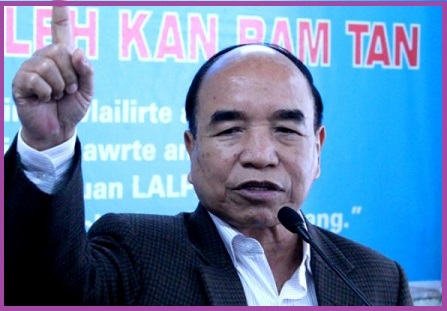 Former Mizoram CM Zoramthanga Profile, Education, Political Career
Zoramthanga is an Indian politician and former 5th Chief Minister of Mizoram He is the leader of Mizo National Front (MNF).
Zoramthanga served as the Chief Minister of Mizoram from December 1998 to December 2008, for two consecutive terms. He was succeeded by Lal Thanhawla of Congress party.
Zoramthanga was born on 13th July 1934 (84-years-old) in Samthang, Assam Province, British India. He finished his high school at Champhai from Samthang village in 1960. He finished his college from D.M. College, Manipur.
Zoramthanga started his political journey by joining the ongoing Mizo Freedom Movement in 1966, He became secretary for Run Bung Area, and served the position for 3 years.
In 1969, all the MNF cadres went down to East Pakistan (now Bangladesh). The President, Laldenga, engaged him as his Secretary. He held this job for seven years.
In 1979, he was given the responsibility of the Vice President. He was arrested by the army and held at the Assam Rifles Quarter Guard during the insurgency, due to which he has been actively pushing for the relocation of Assam Rifles outside the city of Aizawl.
Zoramthanga was made a Minister in the interim government of the state. When the Mizo National Front formed the government in 1987 under the leadership of Laldenga, he joined the Mizoram Legislative Assembly as Minister of Finance and Education in 1987.
In 1990, when Laldenga died, he became the President of the Mizo National Front. When the assembly elections were held at the end of 1998, he led his party to victory and became the fifth Chief Minister of Mizoram, he was re-elected in 2003 but lost both Champhai seats in 2008 Assembly elections. He and his party again faced heavy defeat in the 2013 election.

Zoramthanga has also authored 2 books, Mizo Hnam Movement History (History of the Mizo Nationalism Movement) and its second edition. He also wrote his Autobiography named 'Multi-Organism'.