Updated By: LatestGKGS Desk
India and Russia 18th meeting IRIGC-MTC held in New Delhi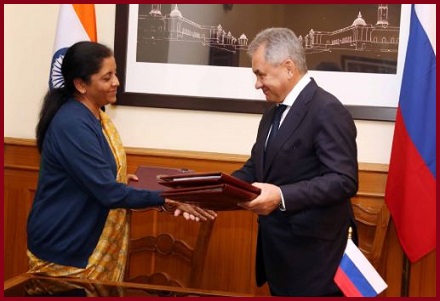 India and Russia 18th meeting IRIGC-MTC held in New Delhi: Details, Aim, Highlights
The 18th meeting of the India-Russia Inter-Governmental Commission on Military Technical Cooperation (IRIGC-MTC) was held in New Delhi. It was held between Indian Defense Minister Nirmala Sitharaman recently met Russian Defence Minister General Sergei Shoigu
Key Highlights of the 18th Meeting of IRIGC-MTC
1. In the meeting, Issues regarding defence equipment, industry and technological cooperation between India and Russia were discussed.
2. Issues related to after sales support and upgradation of military equipment of Russian origin were also discussed.
3. Both the Ministers has expressed heir satisfaction at the progress in bilateral defence cooperation between India and Russia.
4. Discussions took place on joint manufacturing projects in the meeting, including the Kamov-226T helicopters, naval frigates and other projects related to land systems.
5. There was also an agreement from both the sides to take forward inter-governmental arrangements to facilitate joint .manufacturing of spares for equipments of 6. Russian origin in India, under the 'Make in India' scheme.
7. The existing IRIGC-MTC will be restructured to the IRIGC on Military and Military Technical Cooperation. An agreement regarding this was signed by the two Defence Ministers.
About IRIGC-MTC
Russia has been the most important arms supplier for India's Defence forces. Both the countries have an institutionalized structure to oversee all the issues of military-technical cooperation.
The IRIGC is at the top of this institutionalized structure. The India-Russia Inter-Governmental Commission on Military Technical Cooperation (IRIGC-MTC) was set up in 2000. The First meeting of the IRIGC-MTC was held in Moscow in 2001.
The 19th IRIGC meeting is proposed to be held in Russia in 2019.
Latest India And Russia Updates