Updated By: LatestGKGS Desk
Bhutan Prime Minister Lotay Tshering visits India for 3 days: Details, Significance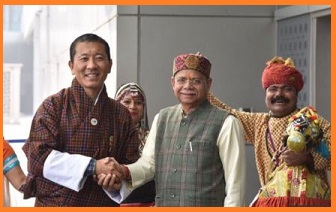 Bhutan Prime Minister Lotay Tshering visits India for 3 days: Details, Significance, Highlights
Prime Minister of Bhutan Lotay Tshering arrived in India on 27th December for a three-day visit. This is significant because it is taking place during the Golden Jubilee year of the establishment of formal diplomatic relations between the two countries.
The Bhutanese PM Tshering was accorded ceremonial reception at the forecourt of Rashtrapati Bhavan. He would pay homage to Father of the Nation Mahatma Gandhi and hold talks with Prime Minister Narendra Modi.
Lotay Tshering is a doctor and Bhutanese politician who is the current Prime Minister of Bhutan. He is also the president of the political party, Druk Nyamrup Tshogpa since 14 May 2018. Lotay Tshering is the 3rd democratically elected Prime Minister of Bhutan.
About India-Bhutan Diplomatic Relations
India and Bhutan diplomatic relations were established in 1968. India established a special office of India in Thimphu in 1968. Prior to this, Indian diplomatic relations with Bhutan were looked after by Indian Political Officer in Sikkim.
The India-Bhutan bilateral relations are governed by the Treaty of Friendship and Cooperation signed in 1949 between the two countries. The treaty was revised in February 2007. The India-Bhutan Friendship Treaty together with reflecting the contemporary nature of our relationship lays the foundation for their future development in the 21st century.
The Golden Jubilee of the establishment of formal diplomatic relations between India and Bhutan is being celebrated in the year 2018.
Bhutan
Capital: Thimphu
Currency: Ngultrum
Prime Minister: Lotay Tshering